Organic, Sustainable Wine - Alma Rosa!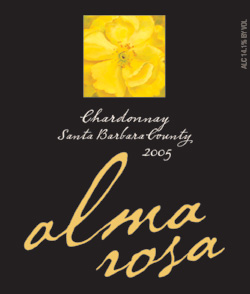 Santa Barbara County Wine Notes writes:

Agriculture has always been a risky business, but nobody's wine growing experience in Santa Barbara has been more of a roller-coaster ride than Richard Sanford's. One of the first to recognize the area's Pinot Noir potential, Sanford planted the famous Sanford & Benedict Vineyard to Pinot in 1970. The fruit quickly became renowned for its extremely high quality.

Richard met Thekla Brumder in 1976, and they married in 1978. Together they founded Sanford Winery in 1981. Although Sanford had lost the vineyard, he was later able to regain it – the roller-coaster kept right on rolling – and over the next 25 years they produced fine wines. The area around Sanford & Benedict became identified as such a special location that it eventually gained its own AVA status as the Santa Rita Hills.

In 1983 the Sanfords began organic viticulture with El Jabali Vineyard, and by 2000 all their holdings were certified organic. But the ride wasn't over. The Sanfords lost control of the winery bearing their name. Now they have regrouped under the name

Alma Rosa

. Under this new label they produce Pinot Gris, Pinot Blanc, Chardonnay, and Pinot Noir. All bottles are closed with screwcaps, and the winery recycles any of the bottles that are returned to them.

Different can be good.

A commitment to sustainable agriculture and organic wines combined with years of experience in the Santa Rita Hills turns out to be a formula for great wine.
Stay in touch with what Richard and Thekla may do next...Join their mailing list.
Better yet...come taste some of their wines at the Santa Barbara Wine Festival!
Labels: Chardonnay, Organic, Pinot Blanc, Pinot Gris, Pinot Noir, Sanford, Santa Barbara Wine Festival, Wine, Winery