Shaking Like Jello in San Francisco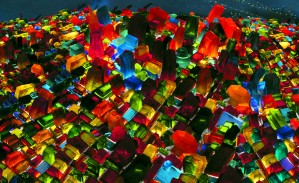 no...really.
Liz Hickok
sculpts buildings
of the
City by the Bay in Jello
. And, to commemorate the upcoming
Centennial anniversary of the "Big One
", she will have a "
demonstration" of live action "shaking"
in certain neighborhoods. (I'm sure that the Marina will be one as it is pretty much all landfill and I can vouch that it does indeed feel like Jello during a little temblor....)
The city's restaurants and bars also plan to promote mixed drinks with names such as Earthquake Cooler, Trembling Martini and the Quake and Fire cocktail — a mix of sparkling wine, orange juice and raspberry liqueur. -
AP
Thanks to
Boing Boing
for finding the fun food news bites and to Liz for putting more into the slogan "
There's always room for Jello
"