Happy Chef Blogging Friday!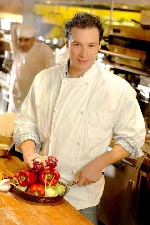 Love him or Hate Him - The Restaurant's
ROCCO DISPIRITO
!
Could he be back? He certainly has eaten humungous crow with his very public feud with Jeffrey Chodorow, all caught in the bright lights of reality tv. And, he did send Fortune Magazine a little mail...
Anyway, remember that TV show, "

The Restaurant

," on which Rocco DiSpirito got into a nasty, all-out fight with the restaurant's owner, Jeffrey Chodorow? And the restaurant in question, Rocco's, closed following horrific reviews? Well, today, in my mailbox, appeared DiSpirito's apology to Chodorow et al. He wrote, "In retrospect I regret some of my statements and actions, which may have exacerbated the dispute between us. The whole experience… was 'interesting' to say the least—one that both Jeffrey and I are glad to have behind us."
He's letting the secret recipe to Mama's meatballs out on his website. But, really, Mama herself is the secret ingredient.